Trac Ltd company with a Fassi F95AXS crane at Trafalgar Square (London)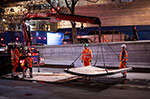 December 2014 - London.
The expertise in temporary road access flooring of Trac Ltd company was utilized at Trafalgar Square to help the heavy industrial vehicles get the Christmas tree and decorations into place without damaging the flooring. The aluminium access 1 roadway has protected the ground, especially when stabilising mechanisms of the heavy cranes were put into place. Trac Ltd has used a
Fassi F95AXS crane
to move and place the panels of the temporary access flooring, Courtesy of Trac Ltd.
Courtesy of Trac Ltd
.
More details:
www.tracltd.co.uk