A Fassi F485RA.2.26 loader crane for KIBAG Dienstleistungen AG in Switzerland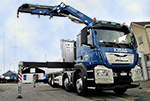 February 2015 - Bäch (35km Southeast of Zurich).
A new
Fassi crane F485RA
was sold to the Swiss company KIBAG Dienstleistungen AG based at Bäch and its delivery has been at the beginning of this year. This company belongs to KIBAG AG wich is a national company in building and construction. The Truck is a MAN TGS 35.480 8x4H-6. The version .26 of this new crane model of the XE range has a lifting capacity of 43,22 t/m and a standard reach of 16,55 m.
Courtesy of Fassi Schweiz AG
.
For more informations about Fassi Schweiz AG, visit:
www.fassi.ch