A Volvo FL with a new Fassi crane model F85B.1 for Hitchens of Exeter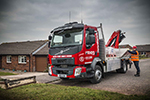 Hitchens of Exeter (Devon - Southwest of England), who are the largest suppliers of new and reclaimed bricks and natural stone in the South West, have purchased a new-series Volvo FL. It is the family-run company's first 'heavy' truck and their first Volvo. The FL is described by its driver as: "Like a Rolls-Royce." The 15-tonne GVW, 4x2 rigid was supplied by Volvo dealer Stuarts Truck and Bus from their nearby Dealerpoint at Clyst St. Mary. The truck is equipped with a
Fassi F85B.1.21 knuckle boom crane
(8 tonne metre lifting capacity and 5,65 metre standard reach), mounted on the rear of the double dropside, platform body, which was built by S W Commercials of Redruth, Cornwall.
As Hitchens of Exeter's only truck, the Volvo FL replaced a 7.5-tonne GVW rigid, reliability is key. Therefore, with annual mileage forecast to be around 60,000 to 70,000 kms a year, the FL is being maintained on an R&M contract by Stuarts Truck and Bus. According to Hitchens of Exeter's Mike Thomas, the new Volvo FL will be making deliveries throughout Devon and Cornwall to builders, landscape gardeners and the general public. However, it may also be used to deliver to some of Hitchens of Exeter's more notable customers, including The National Parks, The National Trust and 'a number' of presenters from the popular BBC Radio 4 programme, 'Gardeners' Question Time' who reside in the South West.
Hitchens of Exeter's FL is powered by Volvo's new 7.7-litre engine rated at 250 hp. Launched in 2013, the Euro 6-compliant, six-cylinder D8K250 delivers maximum torque of 950 Nm from as low as 900 rpm and up to 1700 rpm. A manual 9-speed gearbox is fitted.
Courtesy of Volvo Trucks Great Britain & Ireland.
More details:
www.volvotrucks.com