A Fassi Crane F110B on a Volvo FL for Jem Centres in the UK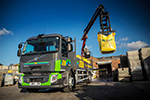 11th February
- A construction materials supplier in the UK chose a Fassi crane mounted on a Volvo truck as the company's first acquisition of a brand new vehicle. Liverpool-based builders' merchant and DIY supplier Jem Centres has purchased an 18 tonne, new-series two-axle Volvo FL with a
Fassi F110B.0.22
. The crane is from the Italian manufacturer's Light-duty crane series. It is a rear-mounted 10 tonne-metre unit and allows materials to be unloaded using its Kinshofer grab. The crane was fitted by The Crane Centre, Sandbach, and Fosters Commercials of Preston was the body builder.
Janet Lloyd, Jem Centres director, said, "Because we are delivering all manner of building materials, from timber to plumbing supplies and packs of plasterboard, we needed a very versatile vehicle that can 'multi-task' and also cope well with heavy traffic."
Lloyd continued, "We have always purchased used vehicles in the past and felt that we were, in effect, buying someone else's specification. This time, we decided to order the truck we need to do the job."
The truck's specification includes 250 hp D250K engine, I-Sync automated gearbox and the suspension on the drive axle is leaf springs. Thomas Hardie Commercials supplied the truck, which has a five-year Volvo Gold repair and maintenance contract.
More details:
www.khl.com