MaxiCargo proposes a Fassi crane installed on a light vehicle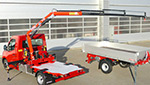 Maxicargo offers an innovative combination ultra compact, between a Fassi crane behind the cab of a 3.5t vehicle and a trailer dumper with an optimal load capacity. Intelligent distribution of the weight of the crane on the vehicle and the weight of the load on the trailer, all in a compact format.
Maxicargo answers to the problem of weight in overload of light vehicles by providing a solution adapted to handling needs on construction sites, especially in urban areas or difficult to access. So, you can load, lift, carry, store, transfer all kinds of materials and goods, and safely.
The range is available with the combination of a Fassi crane installed rear of the cab of a light vehicle as Iveco Daily. The Maxibenne trailer is available in steel version (2 tons of payload) and two lengths, 2.60 m or 3.20 m. The Maxiplateau trailer is available in reinforced aluminum (2.3 t payload) in five lengths: 2.60 m, 3.20 m, 3.80 m, 5.00 m 4.40 me.
More details:
www.constructioncayola.com