The Fassi truck mounted crane model F1950RAL perfect for handling bulky materials on a construction sites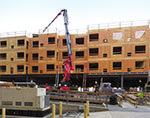 Pennsylvania (U.S.) - December 2014.
The
Fassi F1950RAL crane
with the L816L jib is a perfect solution on construction sites when it's necessary to move bulky materials or to reach tight spaces. In the picture the crane is working bringing material on the roof of the building. For the F1950RAL there are no problems of vertical extension to reach to over 40 meters! The vehicle of the company "Keystone Concrete Products, Inc." often performs particular lifting tasks, in addition to the normal handling of its precast concrete products.
More details:
www.fascan.com
and
www.keystoneconcreteproducts.com