The Fassi Edelweiss Albino wins the first match of its poule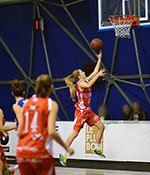 Castellammare di Stabia (Naples) - January 31, 2015.
Last Saturday, the female athletes of the basketball team of Albino have won the first match of Group G Of the relegation poule of the national A2 female championship of basketball. The Fassi Edelweiss Albino team won with the score of 41-50 against the local team "Trust Risk Group Stabia". Best scorer girl of the match Vorlova Tereza with 21 points.