Fassi Edelweiss Albino wins the last match at Cagliari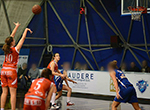 Cagliari (Italy) - January 24th, 2015.
Last Saturday ended the first part of the women's basketball A2 tournament which sealed so the first verdicts seasonal. Despite the brilliant victory at Cagliari against Virtus Cagliari with a score of 49-77 in favor of the female players of Fassi Edelweiss Albino, the team will participate in the salvation poule against the following teams: Carugate, Selargius, Biassono, Muggia, Stabia and Viterbo. This poule restarts from zero points, then not taking into account the results obtained previously and the teams will compete in home and away matches.
More details:
www.facebook.com/EdelweissFassiAlbino
and
www.edelweissfassialbino.it