A Fassi crane F40A.0.22 active on the new Nissan NT500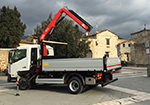 Calenzano (Florence) - January 2015.
A new commercial vehicle NT500 Nissan fitted with a Fassi crane belonging to light duty range model
F40A.0.22 active
is soon in delivery to the building material warehouse EDILFORNITURE Vanni Ltd based in the outskirts of Florence. The vehicle was sold by the local dealer Fassi Gru Firenze situated in Calenzano (FI). The new Nissan vehicle improved in the comfort and maneuverability along with the performance and reliability of the Fassi crane is an optimal solution given the operating costs minimized for logistics activities into the distribution of building material for wholesales in the transport of light loads.
More details:
www.fassifi.com