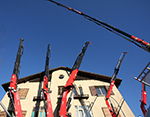 Aosta (Italy) January 2015
- Every year, along the streets of the city, the finest exaples of Aosta Valley craftworks is set out on display and not only. During the Middles Ages, the fair took place in that area of the ancient town of Aosta around the collegiate Church know as Sant'Orso. According to the legend, it all began in front of the church itself, where Sant'Orso, who probably lived before the 9th century, used to stand distributing to the poor clothing and "sabots", traditional wooden shoes which can still be seen at the fair. Now the event covers the whole city center, as well as the area around the Roman city wall. The fair is also an occasion for listening to traditional alpine music, watching folk dances, tasting the traditional wines and foods of the area and seeing stands of various equipment.
It's a non-stop event that takes place between
30th and 31st January
, the streets are lit and filled with people.