A Fassi knuckleboom crane dealing with large wooden structures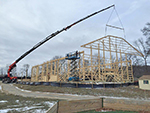 Pennsylvania (U.S.) - December 2014.
The
F1950RAL crane of Fassi
with the L816L jib can give his valuable contribution when it's necessary to move bulky wooden structures. Into the photo the cranes is working at the maximum extension: more than 41 meters! This incredible Fassi knuckleboom crane belongs at the fleet of vehicles Keystone Concrete Products, Inc. company that usually takes care the handling of its the pre-cast concrete structural products.
More details:
www.fascan.com
and
www.keystoneconcreteproducts.com