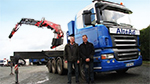 La Roche-sur-Yon - December 2014.
The AltéAd company in 2013 has sold the part of traditional freight sector to Mousset to focus on the lifting and on the special transport. Laying glazing, mounting a wooden frame building or installing big machines for the industry are today the niche activities of AltéAd company. In 2013, the company has sold to Mousset its freight sector, associated with name of Pineau.
"We wanted to refocus towards the lifting and special transport",
said Deddy Ouvrard, the head of "ALTEAD Ouest Levage manutention", based at the agency La Roche-sur-Yon (70 km south of Nantes).
More details:
www.ouest-france.fr
and
www.altead.com