Edelweiss Fassi Albino wins the last two matchs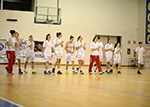 Alzano (Italy) - January 6th.
The women's basketball team of series A2 Edelweiss Fassi Albino has won against the Bk Femminile Biassono team with the score of 64 - 46. Sunday 4th January the team of Albino has even won playing away against the Velco team of Vicenza with the score of 38 - 52. The next game away home will be on Saturday 10th January against the PFF Group team of Ferrara.
More details:
http://bit.ly/edelweissfassialbino-14