A Fassi crane model F120B.1.22 e-dynamic to Wollens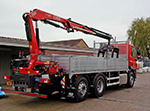 Wollens of Glastonbury (England) - November 2014.
A rear installation of a Fassi crane model F120B.1 (with a single linkage system) on a truck provided by Taunton Daf was recently delivered by the company Wessex Vehicle Solutions to a vehicles merchant in Wollens Glastonbury (44 km south of Bristol). The crane is equipped with an hydraulic "brick stack grapples" for bricks handling.
By courtesy Fassi UK ltd:
http://www.fassi.co.uk