Two Fassi articulated cranes to place a Christmas tree in Bologna city center (Italy)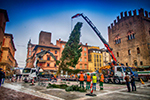 Bologna (Italy) – Saturday 22nd November.
Two Fassi articulated cranes, one
F800RA
.2.26 equipped with a jib L516 and one
F1300RA
.2.28 equipped with a jib L616, placed in the medieval city center of the regional capital of Emilia Romagna a tree that afterwards was decorated for Christmas. Piazza Maggiore is the main square of Bologna, it's 115 m long and 60 m large and is surrounded by the most important buildings of the medieval city.
The most ancient construction is the Palazzo del Podestà closing the north side of the square; it was built in the 13
th
century and atop of it there is the Torre dell'Arengo, whose bell used to be rang back then to gather the people. Soon after an enlargement took place with the Palazzo Re Enzo, characterized by a groin vault of a pedestrian crossroad. The positioning of the Christmas tree last Saturday represented the culminating moment of the whole operation, previously characterized by the choice of the tree and then its transport, under the supervision of the local foresters, who found the most suitable tree on the mountains Apennines nearby.