The new website of our French distributor is now online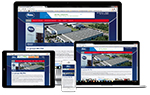 Saint-Ouen-l'Aumône (France) – Tuesday, 25th November.
The new website of Fassi French distributor, Miltra S.A.S., is online from today. This company, partner of Fassi Gru for over 35 years, is located in Saint-Ouen-l'Aumône (32 km northwest from Paris) and distributes a large range of equipments for material moving in the French country.
More details:
http://www.miltra.fr