Fassi has participated in the "2014 PMI Day" event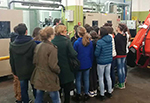 Albino (Italy) - November 14th.
Last Friday third class (B section) of high school placed in Bagnatica (close to Bergamo) has visited the Fassi factory in Albino in the occasion of the "2014 PMI Day" event organized by Confindustria Bergamo. The group of 25 students could learn directly the reality of an industrial company to have an advantage into their orientation in the difficult task of choosing the address of their specialization and the next entrance in the job market.
More details:
http://www.confindustria.it