Edelweiss Fassi Albino always mid-ranking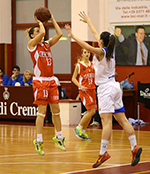 Crema (Italy) - November 16th.
The women's basketball team series A2 Edelweiss Fassi Albino has lost by a score of 78-57 against the team Tec-Mar Cream. Best markers of the team were the players Vorlova Tereza with 16 points, Laura Fumagalli and Isacchi Eleonora draw each with 10 points. The next match will be November 23rd at home against the team Virtus Cagliari.
More details:
http://www.facebook.com/EdelweissFassiAlbino