Tecnomaq V & L emphasizes the strategic alliance with Fassi Crane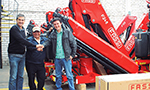 Lima (Perù) - November 3rd.
Eng. Carlos Leon Velasquez, belonging to TECNOMAQ CEO. V & L, is very satisfied with Fassi Cranes and says: "This company is doing very well, from the technical point of view we are very impressed by our installations. We are able to give customers immediate answers, thus avoiding long waits. We are evaluating at the possibility of making more purchases soon, thanks to the security given by after-sales quality and good prices, which is critical in our business.