A Fassi heavy-duty crane of 60 tm is been involved into handling and transport of two helicopters near Göteborg (Sweden)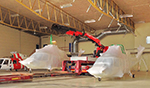 Säve (Sweden) - Thursday, October 2nd.
A heavy-duty Fassi crane with 60 tm of lifting capacity is been involved into an exceptional transport of two helicopters at Säve (7 km north of Göteborg). These two aircrafts owned by the Swedish Coast Guard are been moved from the small Säve airport and transported 20 KM to Göteborg harbor where they are been sent by ship to Baltimore, USA.
A Danish transport company has used a vehicle equipped with a crane Fassi model F660RA.2.26 e-dynamic. In this case the lifting of the helicopters was challenging because it happened in a hangar, and then with strong limitations of overall height. But the reliability and accuracy of liftings performed by the Fassi cranes fits very well to these particularly delicate operations.
(Background information: The helicopters were send to Baltimore because the Swedish Coast Guard has received a new model of helicopter. Value: USD 7,5 million for each sold helicopter)
More details:
http://www.fassi.dk