Promo video of the Fassi hydraulic crane model F1950RAL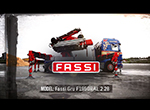 The F1950RAL model was developed for use in a particular configuration. Specifically, it is a machine that can be installed without accessories on an approved 32-tonne 4-axle vehicle.
This means our customers can even operate in built-up residential streets with restricted spaces for working. It is able to reach heights of up to 40 metres and can work in conditions that no other machine can match.
Watch the video here:
http://youtu.be/kLXZxGBpuY0