Edelweiss Fassi Albino stuck at home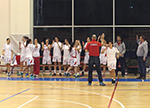 Alzano (Italy) - November 2nd.
The women's basketball team of the A2 Edelweiss Fassi Albino was stuck at home with a score of 45-56 from Velco Vicenza team. Best scorer of the team was the player Vorlova Tereza with 13 points. The next game will be November 5th at the sports hall of Biassono against the local Women's Basketball team Biassono.
More details:
http://www.facebook.com/EdelweissFassiAlbino