Soon a Fassi crane model F1950RAL.2.28 + L816L will be operational in Rome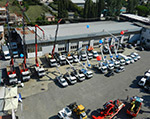 Rome (Italy) - October 3/4.
The Centorame group has celebrated the start of a new operational base with an event opened to its customers and suppliers at Via Galatea in Rome. This important Roman hire's company, as well as being historical customer of Fassi, has in its fleet platforms, excavators, forklifts, telescopic handlers and contruction's equipments. It also has a large fleet of vehicles for the recovery of waste through demountable installations. The local Fassi service center, Dami srl that is being working on the new installation of a new crane's model
F1950RAL
, is also the partner of the Centorame group regarding specialist maintenance with original parts for the all Fassi cranes.