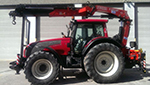 Chiclana de la Frontera (Spain)
- Chiclana Grúas, a company with a long presence in the market of transport and rental of mobile cranes and cranes based in Chiclana de la Frontera (20 km south of Cadiz), has entrusted its recent project at Transgrúas. It is a combination of an agricultural tractor of 160 hp. and a Fassi crane model F235A.2.24 with a 6 functions radio remote control, with an oil cooler, with hydraulically extra extendable outriggers and with rear hydraulic extendable stabilizers (up to 4700 mm).
The particularity of the group is that it's "removable", that means, the crane is on a subframe and it's attached to the tractor through a gimbal, so that the tractor can work with or without crane fully exploiting its versatility action. The purchase of this crane boosts fleet of cranes Fassi crane holding Chiclana Grúas.
More details:
www.movicarga.com
and
www.transgruas.com