The steel challenge - A video to describe a big crane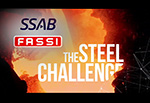 Produced in partnership with SSAB, a Swedish steel group and a Fassi Gru historical supplier, the video presents the F1950RAL crane, the flagship of the Italian company is extraordinarily versatile.
The ability to carry a load over a six-floor apartment block, to span across a yacht, to reach a roof tens of meters away, these are all missions that find the best operational response in the Fassi F1950RAL. To prove this, a group travelled to Denmark to meet the owner of the first example delivered in Europe and documented it in a compelling film clip. A successful model, in fact, around sixty of these cranes have already been sold worldwide, particularly in Israel, Colombia, Singapore, the USA and Finland. Of these, twenty are the RAL model - an acronym for Ralla Articolata Lunga (long articulated fifth wheel in Italian), offering the best performance thanks to the extensions of the secondary boom that allow it to achieve a 41 m radius, while the manual ones reach 50 m vertically, with a lifting capacity of 137.6 tm. The Fassi F1950RAL was installed on a Scania R490 four-axle vehicle. In fact, thanks to its particularly compact dimensions (length 4.18 m, width 2.54 m and height 2.55 m), it does not require the fitting of the fifth axis as instead required by the main competitor. This translates into, when it is without accessories, the possibility of 32 t approval (instead of 40 t), making the crane/truck assembly a normal industrial vehicle, approval is not then necessary as a work vehicle or even as an exceptional means of transport. The result is therefore a more manageable dual function machine which is able to travel without any particular limitations, with a shorter wheelbase and a tighter turning radius that can easily access town centres and other narrow areas, greatly expanding the possibilities of use of the crane. And neither does the basic truck require special features. The weight of the crane (17,800 kg) enables a more comfortable cabin and a greater availability of space to accommodate equipment and accessories around the basic self-supporting structure. The self-supporting structure is absolutely independent from the chassis of the vehicle, ensuring there is no transfer onto the latter of abnormal tensions or stresses that could adversely affect its duration and efficiency. A solution that allows the use of normal production vehicles without special adjustments. The protagonist of the film clip is Casper Andersen, son of the owner of the company, and driver of the binomial Scania R490/Fassi F1950RAL vehicle that in the video is presented in different operational situations, all very attractive given the setting but especially important for the interventions that the crane manages to make simple and safe, even in challenging operating conditions.