Fassi participates with MILTRA at the JDLMED exhibition in Marseille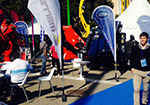 Marseille will welcome the largest gathering for professional lifting, handling, cargo handling, special transport, lifting of people and heavy parcels, for France, the Mediterranean area and Africa. This is a unique and exceptional exhibition taking place in Marseille on 29th, 30th and 31st October 2014.
Miltra's location at the JDLMED will be at the Esplanade n°1, external stand B11.
The following equipments will be exhibited:
• Fassi F1950RA
• Fassi F990RA
• Fassi F165AZ
• Marrel Ampliroll AL 20
Three more cranes will be displayed in the show area:
• Fassi F455RA mounted on a Scania truck
• Fassi F1300RA mounted on a Scania truck
• Fassi F560RA mounted on a Volvo truck.
More details:
http://www.jdlmed.com