Edelweiss Fassi Albino wins the second match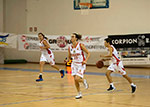 Alzano (Italy) - October 25th.
The women's basketball team of series A2 Edelweiss Fassi Albino has got last Saturday the second victory into B group against the Pallacanestro Interclub Muggia winning with the score of 75 - 47. Best scorers of the victorious team are been Vorlová Tereza players with 15 points and Laura Fumagalli with 12 points. The next game will be Saturday November 1st at home against the Basket Vicenza team.
More details:
www.facebook.com/EdelweissFassiAlbino