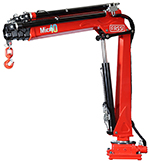 The new M40A.1 model not only widens the Micro range but also introduces new novelty elements, unique for this segment, such as application of the linkage system.
The new crane is characterised, compared to the rest of the range, by an increase of the work area and a greater consistency of performance throughout the entire lifting arch thanks to the development of the geometry with the linkage solution.
Other salient features of the M40A.1: extension rams with internal pipes and a new arrangement of the extension rams to minimise space at height of the extension boom group. Also of importance is the increase of the hydraulic outreach thanks to the development of the .14 version and the unified base for mounting on vehicles with right or left-hand drive.
Similar to the other models in the medium range with linkage system, also for the M40A.1, maximum performance is obtained with the crane completely horizontal, without reduction of outreach and not in articulated configuration. Finally, the new model of the Micro range, like all the Fassi cranes, belongs to class HC1 HD4 S2 (former class B3).
Technical specifications:
• lifting capacity up to 4 tm.
• maximum hydraulic outreach up to 5.85 m
• closed crane overall dimensions of 0.95 m length, 0.33 m width and 1.62 m in height
• weight 375 kg for the crane in the basic configuration.