Edelweiss Fassi Albino has played away in Sardinia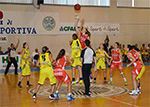 Cagliari (Italy) - Saturday, October 11th.
The women's basketball team of series A2 Edelweiss Fassi Albino has made his first trip away home of the championship in Sardinia. The final score of the game is been 65-54 for the home team , the Astro Cagliari. Best scorer between the athletes of Albino is been Laura Fumagalli with 17 points. The next game will be Saturday October 25
th
at home against the team Pallacanestro Interclub Muggia.