Railway machine equipped with a Fassi crane F175A.2.24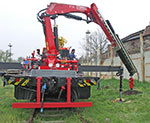 Tihoretsk (Russia) - October 2014.
Since half a century the railway machines for repairs and maintenance of tracks, repair, construction and modernization work on the poles of the electrified railways are produced at Tihoretsk. In this case the railway machine is been equipped with a
Fassi crane model F175A.2.24
with auger, clamshell bucket and radio remote control. The choice of a Fassi crane is not random, in fact its high quality with short delivery time joints a excellent operating costs is perfect for this field of application. The TMCP V.V. Vorovsky company produces modern machines, which are appreciated in different markets such as in Norway, Spain, and Eastern countries.
More details:
www.tmzv.ru/en