IAA 2014 - The F85B.0 crane, versatility and excellent performance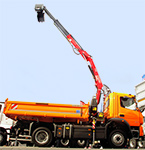 The new model of the F85B family has unique features and unparalleled performances, adaptable to every need in its category. This model completes the Fassi products in the range of 8-9 tm cranes without rod and fork, enabling the end user to configure and choose their own cranes, depending on the specific nature of the work to be performed. Excellent in its versatility, compared to the models that it replaces, the F85B.0 crane presents a series of technological innovations that result in a better power to weight ratio and in excellent performance in the hydraulic reach.
To make this machine versatile for greater use situations and therefore for numerous configurations of stability, the F85B offers the possibility of having hydraulic extensions on any version (standard, extra, super-extra, hyper-extra) without changing the cross bar or replacing the stabilisers.
The new F85B crane is available in the one (.21), two (.22), three (.23) and four (.24) hydraulic extension versions; the maximum hydraulic reach is 11.5 meters while the lifting capacity is 9.2 tm. This model has been in production since August of this year.
• Version C with 2, 3, 4 hydraulic extensions
• Rotation angle of the crane of 400°
• Possibility of combining with the Fassi L061 jib in the 3 hydraulic extension version
• Two design options: active and e-active
• Control panel with FX500 moment limiting device in the e-active version
• Standard remote control (choice of RCH or RCS) in the e-active version