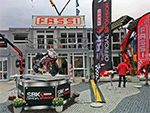 Hanover (Germany) - Monday, 29th September 2014.
Fassi Gru S.p.A. will be present at the 65th Edition of IAA to reassert its technological leadership at the most important international event in the world of transport and logistics. The Fassi Gru stand is located in Outdoor Area M, stand 37 and covers an area of 660 sq.m.
Now in its 65th edition, IAA Commercial Vehicles 2014 comes at a particularly complex time for the Eurozone economy, which is divided between the positive signs of the German economy and the delays evident in many other countries, without forgetting to pay attention to the other emerging global economic realities.
It is easily conceivable that IAA 2014 is set to exceed the numbers of the 2012 Edition that saw, with respect to 2010, an increase of 9% in attendance: in fact, with 1,904 exhibitors and 262,300 visitors (of which 87% are professionals), previous expectations have been greatly exceeded.
The focal point are the models of the new XE and XHE ranges: the recent introduction of the XE range was in fact followed by the presentation of the XHE range that, thanks to the advanced electronic control, is able to guarantee performance that was formerly unthinkable for traditional models.
Two novelties unveiled. The "heavy-duty" F990RA xhe-dynamic crane offers all the solutions that characterise the new XHE range while the crane of the Micro M40A series is the only one in this segment with articulation equipped linkage system. Also new is the F85B.0, the most recent introduction of the 8-9 tm class, presented here for the first time mounted on a Mercedes-Benz vehicle.
A further eight cranes are also being presented, three on a platform and five mounted onto vehicles to provide a complete picture of the Fassi Gru production and to reiterate on this occasion how the incessant presentation of new models implies a continuous investment in innovative processes, developed thanks to the constant desire to provide the market with ideas and solutions that interpret and anticipate its needs. A goal achieved through the integration of mechanical and electronic solutions, namely mechatronics, the engineering of automation.
Completing the stand is the big screen for the projection of the video dedicated to the flagship of Fassi Gru, F1950RAL, the Superbike Championship corner with Fassi Gru as one of the main sponsors and an exclusive preview: the launch of the new Fassi Interactive Training.