Two Fassi heavy duty cranes to lift the super Viking boat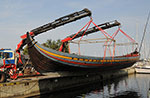 Roskilde (Denmark) - Wednesday, 22th September 2014.
Nearby of the city Roskilde, (about 35 km west of Copenhagen) where is placed a famous Viking Center, two big Fassi cranes have lifted a 30 meters long boat called "Sea Stallion". The spectacular Viking boat is come back after its exhibition to Berlin, where on Saturday 6th September, it has rowed through the center of Berlin on the river Spree moored between the Reichstag building and the famous at Museumsinsel (Museums island).
More details:
www.vikingeskibsmuseet.dk
and
www.fassi.dk