Fassi Perù parteciptes in the rally "Caminos del Inca 2014"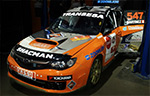 Lima (Perù) -
Fassi Perù,in collaboration with Tracusa - Camiones International, is sponsoring the Team Tracusa Racing which will participate in the important international "Rally – Caminos del Inca 2014".
This important event, to its 19th edition, will take place from 20th to 28th September along 3,292 km of paved and gravel roads.
The driver Mr. Jorge Martínez (owner of Tracusa) will participate in the category N4 with his Subaru Impreza STI Turbo 2000 (N. 547) and will have as copilot Mr. Ricardo Dasso.
Here following for the complete program and further details:
www.acpperu.net
More information:
www.tracusape.com
and
www.fassi.com.pe