Fassi is present at Nordbau fair (North of Germany)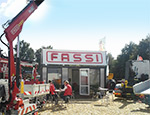 Neumünster (Germany), Friday 12th September 2014 - The German branch of Italian industrial group, the Fassi Ladekrane GmbH, is present at the Nordbau trade fair. Since 1956 this fair offers a platform for trade visitors as well as interested parties from public and private sectors. Representatives from industry and handicraft, building firms and architects, building materials trade, housing companies as well as from chambers and associations, building authorities and local governments meet here.
However, as a super regional trade fair, NordBau is much more than just a venue for good discussions and human relations. In the meanwhile, NordBau Neumünster has become the most significant building trade fair in the north of Germany and, therefore, a trend-setter for the entire German building trade. Annually, round about 900 exhibitors from 15 countries present themselves in the approximately 20,000 sq.m hall areas and in the approximately 69,000 sq.m outdoor areas. The last edition had 75,000 trade visitors.
More information:
www.nordbau.de