6 vehicles for fire brigade with Fassi cranes in Bulgaria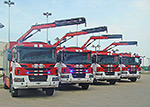 Ilfov (Romania) - Wednesday 30 July. The Fassi distributor in Romania, the Automotive Investment Corporation Ltd, based in Ilfov few kilometers northeast of Bucharest, has just made on behalf of a Bulgarian Scania dealer 4 of the 6 truck set up for firefighters.
Fassi cranes model F110B.2
.25 were installed on the vehicles.