Fassi crane F1950RAL, even better than a telescopic crane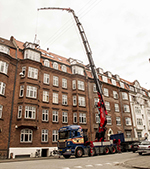 We are in the Danish city of Aarhus, and the Scania R490 owned by Erling Andersen, fitted with the new
Fassi F1950RAL crane
, is about to lower two balconies beyond the roof of a six-storey building to be secured onto the facade of the inner courtyard. Before now, a job like this would have required the use of a tower crane or a big telescopic crane that would have taken up the entire street. Permits would have been required and maybe roads closed. It would have all meant a lot of time and money on paperwork and bureaucratic procedure. Instead, this agile four-axle Scania truck can just get in, do the job and get out again. It needs no permit to travel, is ready to work in just a few minutes, and leaves most of the roadway clear so no special authorisation is required.
This ease of operation is mainly thanks to the new Fassi F1950RAL crane, the top-of-the-range model from the Italian manufacturer. Rated at 137.6 tm lifting capacity, its secondary boom extensions allow it to achieve a reach of 41 m. Adding manual extensions takes its reach to 50 m.
Despites its great reach, this crane is mounted on a four-axle truck. This is possible because of its light weight and compact dimensions when stowed for transport (length 4.18 m, width 2.54 m and height 2.55 m). This means that the rig can operate as a regular industrial vehicle (type-approval at 32 t) rather than having to be classified as an operating machine or even as an oversized load, as it would be with a fifth axle.
This reduces the cost of ownership and maximises revenue generating opportunities because the crane and truck are free to travel with no restrictions. With the short wheelbase and tight turning circle, they can easily access historic city centres and other tight spaces, significantly expanding the range of crane applications.
A little more than two hours after the start of the lifting operations in downtown Aarhus, the agile Scania truck with the Fassi F1950RAL crane is already on its way to another job.