A crane Fassi for a bespoke vehicle for retailers of building materials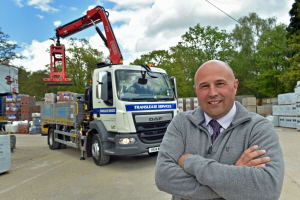 Fleet management firm Translease Services has developed a smaller, more versatile truck for builders' merchants needing to make deliveries in busy city traffic. This truck is based on the new DAF LF220 Euro 6 cab, fitted with a dropside body from Dover-based Charlton Bodies and a Fassi crane, and equipped with cameras and side scanners by Brigade Electronics.
The body is the same width as the cab, making it easier to drive in city conditions, with better visibility of other road users.
Its 16 tonne chassis also makes it lower and more compact than a conventional 18 tonner, yet, according to Translease's Tim Scott (pictured), it still offers a payload of greater than 8 tonnes.
More details:
www.transportengineer.org.uk
and
www.transleaseservices.com