2015 SBK Championship - Video promo of Thai circuit published on the Youtube "FassigruTV" channel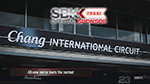 After the thrilling season opener at the Phillip Island Grand Prix Circuit in Australia, the FIM Superbike World Championship returns to the track for the second outing of the year, taking place on March 20-22 at the brand-new Chang International Circuit in Thailand.
The track located near Buriram (which means City of Happiness), in the North Eastern part of the country, is the 48th to host a WorldSBK event in the history of the series. The Chang International Circuit is also the fifth new venue to debut on the World Superbike calendar in the past five years.
The track's 4.554km layout is laid on completely flat terrain and features twelve corners, five left and seven right. Following a first fast section mainly made of two straights and two right-hand turns, the riders enter a mixed second part of the track, which connects back to the start/finish straight.
Watch the video here:
www.youtube.com/watch?v=RSov1ALVUco