The 2015 WorldSBK Live Experience app now available for iOS and Android devices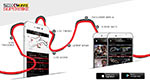 WorldSBK offers fans the one and only official application to enhance enjoyment of the 2015 World Superbike Championship, with a new interface, improved functionality and a wide variety of contents. The new 2015
WorldSBK Official App
is the only app with Live Audio Commentary, Live Tracking and Live Timing for each qualifying session and race of the eni FIM Superbike World Championship. The app provides these features in real time via your mobile or tablet device.
Also providing the latest news and photos of all categories directly from the WorldSBK paddock, plus exclusive videos including highlights from every session of every round, the 2015 WorldSBK Official App is a must have for races fans, motorcycle racing enthusiasts and professionals.
The 2015 WorldSBK is available for iOS devices on iTunes as well as for Android devices on the Google Play store.