Phillip Island to set 2015 World Superbike season in motion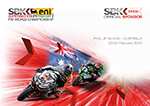 The 2015 eni FIM Superbike World Championship is less than a week away from its first showing and the riders are already in Australia to prepare for the opening round, which will be preceded by a two-day official test starting on Monday.
This year's edition of the Australian round, sponsored by leading insurance company Swann, will be the 25th in the history of the series, an all-time record in terms of most World Superbike events staged by a single circuit. The Phillip Island Grand Prix Circuit made its debut on the World Superbike calendar back in 1990 and, after a brief absence in 1993, has been hosting a round of the championship ever since.
From 2010 onwards the Victorian venue has hosted the opening event of the season. As well as being the fastest on the calendar - with a current fastest average speed for the series of 177.720 km/h - and a favourite for riders and fans alike, Phillip Island is generally regarded as one of most spectacular race tracks in the world. Located on the southerly most tip of Australia amid wonderful coastal scenery, the 4.445 km (2.762 mi) track features seven left-hand corners and five right-handers and many elevation changes up to almost 60 m.
More details:
www.worldsbk.com