U.S. Round at Mazda Raceway Laguna Seca confirmed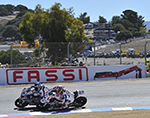 Barcelona (Spain), Tuesday 11 March 2014 - GEICO Motorcycle has signed on as the presenting sponsor of the GEICO Motorcycle U.S. Round of the eni FIM Superbike World Championship which will take place on July 11-13 at Mazda Raceway Laguna Seca, on California's scenic central coast.
"GEICO is a natural partner for this incredible motorcycle race weekend that provides access to an influential and extremely loyal enthusiast base," commented Gill Campbell, CEO and General Manager of Mazda Raceway Laguna Seca. "As part of the sponsorship program, GEICO will activate onsite and be part of a vigorous website and social media initiative program."
Mazda Raceway Laguna Seca and GEICO began working together in 2010, and this enhanced new program is another step forward in what continues to be a mutually-beneficial relationship.
"We are very excited to serve as the presenting sponsor for such an outstanding sporting event," said Ted Ward, GEICO Vice President. "The eni FIM Superbike World Championship weekend offers a great opportunity for us to connect and build brand awareness with a vast legion of superbike fans and enthusiasts from across the country."
More details:
www.worldsbk.com