Sykes on record pace as final pre-season test comes to an end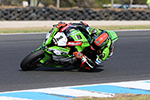 Phillip Island (Australia), Tuesday 18 February 2014 - The official eni FIM Superbike World Championship test at Phillip Island concluded this afternoon with Eugene Laverty (Voltcom Crescent Suzuki) fastest in the fourth and final session. The Irishman was not however the fastest overall as none of the top 15 riders did not improve during the last two hours on track. After combining all four sessions it was reigning Champion Tom Sykes (Kawasaki Racing Team) who came out on top thanks to his super-fast lap set this morning (1'30.239, just 5 thousands shy of Checa's current outright circuit best lap). His test was not without incident as his ZX-10R suffered a technical problem at the very end of the final session approaching Turn 1.
Tom Sykes: "I am happy with the results of these two days of testing at Phillip Island. In the last couple of days we have done a lot of laps to confirm the remaining test items, so to be fastest and be one of the most consistent riders, I have to be very happy with that. Phillip Island has never been our main event, so to speak, so to be up there already is very good. I know the conditions have caught a lot of people out but I know we can now go to the race weekend with more of a clear understanding of what to do. Now we will turn our focus more on performance, pure performance, over the race weekend. I will go away now and have a couple of days winding down and relaxing and come back on Friday morning ready to go again."
Laverty was classified second fractionally ahead of team mate and rookie sensation Alex Lowes. The 23 year old Lincolnshire born rider, who rode for the first time at Phillip Island only yesterday, dropped 1.1 seconds off his session 1 best, which was an already impressive lap time. Italians Marco Melandri (Aprilia Racing Team) and Davide Giugliano (Ducati Superbike Team) were fourth and fifth respectively, just ahead of Loris Baz (Kawasaki Racing Team), who suffered two crashes during the test. The Frenchman was uninjured in both occasions.
Race 1 winner last year Sylvain Guintoli (Aprilia Racing Team) showed no signs of discomfort from the injured shoulder that was surgically repaired twice during the off-season, finishing 7th and completing 92 laps during the two days. Pata Honda duo Leon Haslam and Jonathan Rea both suffered a late test crash leaving them eighth and ninth, but they are taking to the first round some positives after closing to within half a second of the fastest time.
The EVO category saw Althea Racing's Niccolò Canepa riding his Ducati 1199 Panigale to an encouraging 11th overall. The former STK1000 Champion mixed it with some of the WSBK-spec machines to end the test on a high note.
Michel Fabrizio (Iron Brain Kawasaki SBK), who fell yesterday, is being kept at the hospital as a precaution despite x-rays revealing no signs of injury. Reigning STK1000 Champion Sylvain Barrier (BMW Motorrad Italia Superbike Team) was diagnosed with a micro fracture in his pelvis and he's unlikely to take part in the opening round of the season. Young Frenchman and WSBK rookie Jeremy Guarnoni (MRS Kawasaki) ended the combined tests in 17th but suffered a fall at Turn 2 in the first 20 minutes of the final session, resulting in a left AC joint subluxation. No good news for Luca Scassa (Team Pedercini Kawasaki) as x-rays revealed a fractured pelvis, which rules him out of the race weekend.
WSBK test times - combined: 1. Sykes (Kawasaki) 1'30.239 average 177.329 kph; 2. Laverty (Suzuki) 1'30.513; 3. Lowes (Suzuki) 1'30.528; 4. Melandri (Aprilia) 1'30.579; 5. Giugliano (Ducati) 1'30.644; 6. Baz (Kawasaki) 1'30.757; 7. Guintoli (Aprilia) 1'30.766; 8. Haslam (Honda) 1'30.798; 9. Rea (Honda) 1'30.813; 10. Davies (Ducati) 1'31.087; 11. Canepa (Ducati) 1'31.373; 12. Elias (Aprilia) 1'31.441; 13. Salom (Kawasaki) 1'32.008; 14. Foret (Kawasaki) 1'32.780; 15. Corti (MV Agusta) 1'32.858; 16. Morais (Kawasaki) 1'32.895; 17. Guarnoni (Kawasaki) 1'32.897; 18. Barrier (BMW) 1'32.997; 19. Andreozzi (Kawasaki) 1'33.205; 20. Scassa (Kawasaki) 1'33.960; 21. Fabrizio (Kawasaki) 1'34.314; 22. Toth (BMW) 1'34.750; 23. May (EBR) 1'34.807; 24. Yates (EBR) 1'36.662; 25. Sebestyen (BMW) 1'42.242.
World Supersport
Mahi Racing Team India's Kenan Sofuoglu ended the two day official test on top courtesy of the 1'33.506 lap-time set during the very first session yesterday morning. The three time Supersport World Champion did not manage to improve throughout the second day two, whilst other riders significantly lowered their times to bridge the gap to the leader.
American WSS rookie PJ Jacobsen (Intermoto Ponyexpres Kawasaki) made the most of the near perfect weather conditions this afternoon to climb up to an impressive second position, lapping one second faster than yesterday, on his first appearance at Phillip Island. Michael van der Mark (Pata Honda) hung on to a top 3 position overall after matching his time from yesterday.
After the technical problem suffered yesterday, World Supersport returnee Jules Cluzel (MV Agusta RC – Yakhnich Motorsport) gave a glimpse of his former WSS speed elevating himself to fourth overall, ahead of series debutant Ratthapark Wilairot (Core PTR Honda). Yamaha was well represented by Kev Coghlan (DMC-Panavto Yamaha) and Italian Fabio Menghi (VFT Yamaha), who finished sixth and seventh respectively.
Local rider Bryan Staring (Rivamoto Honda) did well in his return to the Supersport class (he is a former Australian Supersport Champion) ending the two day test in thirteenth position.
WSS test times - combined: 1. Sofuoglu (Kawasaki) 1'33.506 average 171.133 kph; 2. Jacobsen (Kawasaki) 1'33.787; 3. Vd Mark (Honda) 1'33.918; 4. Cluzel (MV Agusta) 1'33.984; 5. Wilairot (Honda) 1'33.987; 6. Coghlan (Yamaha) 1'34.072; 7. Menghi (Yamaha) 1'34.233; 8. Leonov (MV Agusta) 1'34.295; 9. Tamburini (Kawasaki) 1'34.301; 10. Kennedy (Honda) 1'34.393; 11. Russo (Honda) 1'34.550; 12. Zanetti (Honda) 1'34.591; 13. Staring (Honda) 1'34.733; 14. Marino (Kawasaki) 1'34.747; 15. De Rosa (Honda) 1'34.834; 16. Wahr (Yamaha) 1'35.152; 17. Gamarino (Kawasaki) 1'35.320; 18. Gowland (Triumph) 1'35.324; 19. McConnell (Triumph) 1'35.351; 20. Calero (Honda) 1'35.370; 21. Bussolotti (Honda) 1'35.533; 22. Coveña (Kawasaki) 1'35.599; 23. Rolfo (Kawasaki) 1'35.740; 24. Rogers (Honda) 1'36.956; 25. Taylor (Yamaha) 1'36.969; 26. Ivanov (Yamaha) 1'37.123.
More details:
www.worldsbk.com