High stakes for the penultimate round at Magny-Cours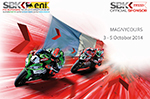 Barcelona (Spain), Monday 29 September 2014 – The penultimate round of the 2014 eni FIM Superbike World Championship will take place this weekend at Magny-Cours. The stakes are high for this year's title as series leader Tom Sykes (Kawasaki Racing Team) heads to France with a 31 point advantage with Sylvain Guintoli (Aprilia Racing Team). The reigning champion is looking to return to his previous winning form to seal what would be his second title in a row after being a little bit on the back foot at Jerez, where aboard his ZX-10R he struggled to keep the pace of the two factory Aprilia machines of Guintoli and Melandri.
Last year the 29 year Briton dominated in France by taking pole position, winning both races and setting the fastest lap in each of the two encounters. In 2012 Sykes won the second race on the 4411m, challenging venue located in the heart of France only to miss the ultimate price by half a point.
Other title contender Guintoli came out victorious in wet conditions at Magny-Cours two years ago in race one, while in 2013 he crossed the line second and third. On his home track he has never finished below sixth and has always stepped onto the podium in the last two editions of the French Round.
Last time out at Jerez Guintoli missed a great opportunity to further narrow the gap to the top as he was twice edged out for the win by teammate Marco Melandri, who got his second double of the year and proved once more to be the man to beat in the closing part of the season. The Italian rider currently sits fourth in the standings only 18 points away from third place Jonathan Rea (Pata Honda World Superbike). The Ulsterman, who was fourth and fifth in the two Spanish races, was able to step on the podium at Magny-Cours twice before, in 2009 and 2012 (race 2).
With two rounds left, many riders are looking for a strong performance to improve their position in the overall standings. Local rider Loris Baz (Kawasaki Racing Team) and the Ducati Superbike Team duo of Chaz Davies and Davide Giugliano are yet to step atop the podium this year and have never made it into the top 3 at Magny-Cours before, meaning the French Round will be very important for all three riders.
The Voltcom Crescent Suzuki Team will face the penultimate round with both sides of the garage knowing their 2015 plans. Eugene Laverty is officially heading to MotoGP, while rookie Alex Lowes recently agreed to extend his partnership with the squad for one more year.
MV Agusta Reparto Corse's Claudio Corti and Team Hero EBR's Geoff May and Aaron Yates will have another chance to improve their performance as the season enters the final stretch. A second MV Agusta F4 RR will be run by the Dream Team Company and ridden by 27 year old Nicolas Salchaud.
Three more Ducati 1199 Panigale R machines will line-up on the grid at Magny-Cours as Team 3C Racing will take part in the French Round with 2014 German Superbike Champion Xavi Fores and his IDM teammates Max Neukirchner and Lorenzo Lanzi.
The EVO class sees David Salom (Kawasaki Racing Team) with one hand on the trophy having a 41 point lead over Niccolò Canepa (Althea Racing Team Ducati), while local riders Jeremy Guarnoni (MRS Kawasaki) and Sylvain Barrier (BMW Motorrad Italia) are third and fourth respectively with a lot of ground to make up in the standings. However expect them fighting to uphold their honor at home.
After 15 years of racing spent in the WSBK paddock, Fabien Foret will contest his final race in the series by joining regular Team Pedercini rider Alessandro Andreozzi and replacing the still injured Luca Scassa.
Standings (Round 10 of 12): 1. Sykes 352; 2. Guintoli 321; 3. Rea 285; 4. Melandri 267; 5. Baz 262; 6. Davies 188; 7. Laverty 154; 8. Giugliano 153; 9. Elias 151; 10. Haslam 150; 11. Lowes 126; 12. Salom 95; 13. Canepa 54; 14. Guarnoni 41; 15. Camier 37; 16. Barrier 32; 17. Morais 24; 18. Andreozzi 21; 19. Scassa 16; 20. Foret 14; 21. Corti 14; 22. Staring 12; 23. Allerton 6; 24. Bos 5; 25. Goi 5; 26. Russo 5; 27. Rizmayer 3; 28. Pegram 2; 29. Toth 2; 30. Fabrizio 2; 31. Lanusse 1. Manufacturers: 1. Kawasaki 369; 2. Aprilia 368; 3. Honda 285; 4. Ducati 249; 5. Suzuki 220; 6. BMW 69; 7. MV Agusta 21; 8. EBR
World Supersport
After clinching his first World Title last time out at Jerez and being confirmed as a new WSBK rider for the Pata Honda team in 2015, Michael van der Mark will continue with his usual World Supersport duties as a champion in France.
With the ultimate prize already sealed, the battle for the runner-up spot sees Frenchmen Florian Marino (Intermoto Ponyexpres Kawasaki) and Jules Cluzel (MV Agusta Reparto Corse) separated by only two points at 109 and 107 respectively, while the other Pata Honda rider Lorenzo Zanetti (90) heads a tight pack that includes Kev Coghlan (DMC-Panavto Yamaha), PJ Jacobsen (Intermoto Ponyexpres Kawasaki) and Kenan Sofuoglu (San Carlo Puccetti Racing), who are all within 5 points of each other.
Irishman Jack Kennedy (CIA Insurance Honda), who has been performing well in the recent rounds, will be joined by Colombian rider Martin Cardenas, who steps in for Raffaele De Rosa, as he looks to return to the podium in the penultimate race of the year.
Kevin Wahr (RS Wahr by Kraus Racing) will be back in action after missing from the WSS grid since the Riviera di Rimini Round at Misano, while Ferran Casas and the Team Torrento Yamahawill take part in their second consecutive round after making their World Supersport debut at Jerez. Vladimir Leonov (Rivamoto Honda) and Matt Davies (AARK Racing Honda) will also be part of the show, as will local riders Lucas Mahias (MG Competition Yamaha) and Cédric Tangre (Yohann Moto Sport Suzuki).
Standings (Round 9 of 11): 1. Vd Mark 185; 2. Marino 109; 3. Cluzel 107; 4. Zanetti 90; 5. Coghlan 88; 6. Jacobsen 87; 7. Sofuoglu 86; 8. Rolfo 71; 9. De Rosa 67; 10. Kennedy 56; 11. Tamburini 54; 12. Wilairot 43; 13. Bussolotti 30; 14. Nocco 27; 15. Wahr 26; 16. Russo 25; 17. Gamarino 23; 18. Menghi 20; 19. Leonov 19; 20. Gowland 9; 21. Roccoli 8; 22. Schmitter 8; 23. Zaidi 7; 24. Coveña 7; 25. Debise 4; 26. Calero 3; 27. Rogers 1. Manufacturers: 1. Honda 206; 2. Kawasaki 155; 3. MV Agusta 121; 4. Yamaha 98; 5. Triumph 9.
Superstock 1000
The FIM Superstock 1000 Cup is set for a thrilling season finale at Magny-Cours, as the only two riders left in the title race will square off for one last exciting battle. With two race wins each, series leader Leandro Mercado (Barni Racing Ducati) and Lorenzo Savadori (Team Pedercini Kawasaki) are separated by only five points, meaning the Kawasaki rider will aim for the win at any cost to secure the title, hoping to get the better of his strong Argentinean rival.
Given the points situation, the other potential podium finishers could play a crucial role this weekend: Mercado's teammate Ondrej Jezek, Fabio Massei (EAB Racing Ducati), David McFadden (MRS Kawasaki), Matthieu Lussiana (Team Garnier by ASPI Kawasaki) and Kyle Smith (Agro-On Wil Racedays Honda) will try their best to get in the mix for the top 3 in what is expected to be an exciting finale to the year.
Team Pedercini Kawasaki will be back to the early season's five rider line up with the returning Simone Grotzkyj Giorgi, whilst the six additions in terms of wildcard and one event riders will bring the number of entrants for the round to a rounded 30.
Standings (Round 6 of 7): 1. Mercado 104; 2. Savadori 99; 3. Jezek 69; 4. Massei 67; 5. McFadden 63; 6. Lussiana 59; 7. Smith 55; 8. Lanusse 53; 9. Valk 44; 10. Day 42; 11. D'Annunzio 39; 12. Nemeth 28; 13. Muresan 21; 14. Bergman 13; 15. Suchet 13; 16. Grotzkyj G. 10; 17. Pagaud 10; 18. Alarcos 8; 19. Schacht 8; 20. Castellarin 7; 21. Walraven 6; 22. Alviz 6; 23. Sandi 5; 24. Calia 4; 25. Moser 3; 26. Egea 2; 27. Butti 1; 28. Ayer 1. Manufacturers: 1. Ducati 125; 2. Kawasaki 124; 3. Honda 71; 4. BMW 46; 5. Suzuki 6; 6. Aprilia 4.
Superstock 600
An impressive total of 41 riders (31 regulars and 8 one off riders) will take part in the last round of the 2014 FIM Europe Superstock 600 Championship this weekend at Magny-Cours. New champion Marco Faccani (San Carlo Team Italia Kawasaki) will try to add yet another race win to his impressive tally with no more pressure on his shoulders having wrapped up the title in Spain, before taking on the next step of his career.
Wayne Tessels (Wayne Racing Team Suzuki) leads the battle for the runner-up spot with 15 and 17 points over Andrea Tucci (San Carlo Team Italia Kawasaki) and Federico Caricasulo (Evan Bros. Racing Team), who scored an impressive second last time out at Jerez (second STK600 podium of his career).
Standings (Round 6 of 7): 1. Faccani 131; 2. Tessels 83; 3. Tucci 68; 4. Caricasulo 66; 5. Tuuli 58; 6. Mikhalchik 48; 7. Salvadori 42; 8. Duwelz 39; 9. Manfredi 38; 10. Rinaldi 29; 11. Casalotti 27; 12. Lahti 24; 13. Bodis 20; 14. Nestorovic 19; 15. Stirpe 16; 16. Zaccone 16; 17. Marchal 15; 18. Hartog 13; 19. Puffe 12; 20. Sabatino 11; 21. Morrentino 10; 22. Rouse 9; 23. Caruso 7; 24. Baken 6; 25. Mercandelli 5; 26. Gobbi 5; 27. Lewis 5; 28. Pittet 5; 29. Zeelen 5; 30. Canducci 3; 31. Monti 2; 32. Lagonigro 1; 33. De Gruttola 1; 34. Patronen 1.