Melandri dominates race day as Guintoli narrows the gap to Sykes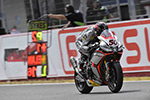 Jerez (Spain), Sunday 7 September 2014 – The Spanish Round of the 2014 eni FIM Superbike World Championship proved to be as important as expected for this year's title race. With Marco Melandri (Aprilia Racing Team) taking his second double of the season, his teammate Sylvain Guintoli, who was twice second at the flag, managed to narrow the gap to series leader Sykes to 31 points. The reigning champion was fifth in the first race and third in the second but was never able to show his usual speed this time at the Jerez Circuit.
After the STK600 title clinched by Marco Faccani yesterday, the fans attending the event could cheer the crowning of the 2014 FIM Supersport World Champion Michael van der Mark (Pata Honda World Supersport), who won today's spectacular WSS 19 lap encounter.
Special guests for the round were Ducati Ambassador Carlos Checa and Alfa Romeo Ambassador Jorge Lorenzo, who took part in many initiatives both on track and in the SBK Paddock Show.
Results race 1: 1. Melandri (Aprilia) 20 Laps/88.460 km in 34'20.164 average 154.578 kph; 2. Guintoli (Aprilia) 1.397; 3. Davies (Ducati) 4.283; 4. Rea (Honda) 5.705; 5. Sykes (Kawasaki) 6.979; 6. Laverty (Suzuki) 7.342; 7. Haslam (Honda) 14.868; 8. Elias (Aprilia) 23.853; 9. Salom (Kawasaki) 25.886; 10. Barrier (BMW) 26.536; 11. Guarnoni (Kawasaki) 41.308; 12. Andreozzi (Kawasaki) 46.672; 13. Morais (Kawasaki) 48.742; 14. Canepa (Ducati) 50.131; 15. Corti (MV Agusta) 1'03.677; 16. Rizmayer (BMW) 1'14.881; 17. May (EBR) 1'22.832; 18. Toth (BMW) 1'35.170; RT. Yates (EBR); RT. Baz (Kawasaki); RT. Lowes (Suzuki); RT. Giugliano (Ducati); RT. Staring (Kawasaki).Results race 2: 1. Melandri (Aprilia) 20 Laps/88.460 km in 34'25.940 average 154.146 kph; 2. Guintoli (Aprilia) 2.845; 3. Sykes (Kawasaki) 6.097; 4. Davies (Ducati) 7.749; 5. Rea (Honda) 7.935; 6. Laverty (Suzuki) 10.510; 7. Baz (Kawasaki) 16.078; 8. Haslam (Honda) 16.098; 9. Lowes (Suzuki) 16.554; 10. Elias (Aprilia) 25.840; 11. Barrier (BMW) 36.839; 12. Morais (Kawasaki) 55.531; 13. Guarnoni (Kawasaki) 55.980; 14. Rizmayer (BMW) 1'18.354; 15. Canepa (Ducati) 1'26.338; 16. Yates (EBR) 1'31.468; RT. Andreozzi (Kawasaki); RT. Toth (BMW); RT. May (EBR); RT. Corti (MV Agusta); RT. Giugliano (Ducati); RT. Salom (Kawasaki); NS. Staring (Kawasaki).Standings (Round 10 of 12): 1. Sykes 352; 2. Guintoli 321; 3. Rea 285; 4. Melandri 267; 5. Baz 262; 6. Davies 188; 7. Laverty 154; 8. Giugliano 153; 9. Elias 151; 10. Haslam 150; 11. Lowes 126; 12. Salom 95; 13. Canepa 54; 14. Guarnoni 41; 15. Camier 37; 16. Barrier 32; 17. Morais 24; 18. Andreozzi 21; 19. Scassa 16; 20. Foret 14; 21. Corti 14; 22. Staring 12; 23. Allerton 6; 24. Bos 5; 25. Goi 5; 26. Russo 5; 27. Rizmayer 3; 28. Pegram 2; 29. Toth 2; 30. Fabrizio 2; 31. Lanusse 1. Manufacturers: 1. Kawasaki 369; 2. Aprilia 368; 3. Honda 285; 4. Ducati 249; 5. Suzuki 220; 6. BMW 69; 7. MV Agusta 21; 8. EBR