SBK14 - Official mobile game now available on App Store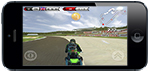 Barcelona (Spain), July 2014 – Dorna WSBK and Digital Tales, an Italian videogame and multimedia platform developer, are pleased to announce that the "SBK14 Official Mobile Game", the official game of the eni FIM Superbike World Championship, is now available on the iOS App Store.
The SBK14 Official Mobile Game features 27 riders, 16 teams and 13 circuits of the current season for a perfect reproduction of the series. Get on track with some of the fastest riders in the world, astride the best bike available for sale, to live the full Superbike experience. This is the goal pursued by Digital Tales, who created a highly realistic game with 3D graphics, dynamic lighting, engine sounds that were recorded live, and an exact duplication of all teams. SBK14 Official Game perfectly renders the thrill and exciting action of WSBK.
The game features also a simple and intuitive touch control system that will allow both beginners and expert players to fully enjoy the time spent riding their favourite bikes. Melandri, Rea, Laverty and the reigning champion Tom Sykes are all waiting for the players to hit the track and challenge them for the win with the SBK14 Official Mobile Game.
"Digital Tales has done an impressive job in creating such a great game that will make the series more popular to those who don't usually watch it" said Marc Saurina, WSBK Commercial and Marketing Director. "World Superbike fans deserve a high-quality game and that's exactly what Digital Tales has done for them."
"The goal of SBK14 is to fill the void of motorcycle racing games on mobile platforms" said Giovanni Bazzoni, Digital Tales CEO. "Car racing is very popular already, but this is a completely different story and we will do our best to bridge that gap thanks to our knowledge in motorcycle games."
SBK14 is available for free on the App Store.