The Qatari round to be contested under floodlights, South African event cancelled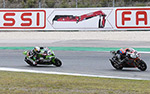 The FIM and Dorna WSBK Organization would like to announce the confirmation of the Qatar Round at Losail International Circuit, scheduled for 2 November 2014. The venue was on the WSBK calendar for five consecutive years between 2005 and 2009. In 2014, the races will be taking place under floodlights for the first time. The impressive lighting system of the Losail International Circuit is powered by 44 13-megawatt generators and made up of 1000 structures, 3600 light bulbs and 500km of wires.
As the round will be held at night time, the final prize-giving ceremony for both WSBK and WSS classes will take place in Doha the following day, on the evening of Monday 3 November.
Regarding the Round in South Africa originally scheduled to take place on October 19, FIM and Dorna WSBK regret to announce that, despite the efforts of the local promoter (GAS Sport), the works carried out on the race track are not advanced enough to meet the conditions required to achieve FIM homologation.
Dorna WSBK Organization and the International Federation are looking into the possibility of finding a replacement for this race. Depending on the replacement venue, the awards for the FIM Superstock 1000 Cup, European Superstock 600 and European Junior Cup, powered by Honda, could be presented either at the French Round, scheduled on Sunday 5 October 2014 in Magny-Cours, or at the new venue.
More details:
www.worldsbk.com