Skogsnolia the starting gun

Cranab has long been renowned on the world market for its harvester and forwarder cranes for forestry machines. Now it's time for the next step and a new product area – truck cranes for forestry and recycling.
The first model – the TZ12 – will be unveiled at the Skogsnolia exhibition outside Umeå, Sweden.
The Cranab TZ12 is a 12 tonne-metre crane that will initially be available with two reaches – 9.3 m and 10.5 m.
"
A new, closely-related product is a natural step to take when expanding the range. Our engineers and crane builders have long experience of the tough standards that apply to cranes for forestry machines. Many of the principles are the same, even though there are several important differences when building cranes for trucks, where weight has a higher priority along with other challenges such as hose protection, corrosion protection and safety requirements. For us, safety and quality always enjoy the highest priority
," says Fredrik Jonsson, Senior Adviser at Cranab.
Launch in 2016
He emphasises that the model on display at Skogsnolia is the first prototype.
"
It's passed some tough stress and fatigue tests, so we're in the final phase. But we have good experience of talking to users and industry professionals early on to gather points of view. They have a great fund of knowledge, so we regard showcasing as part of our product development. We will also be exhibiting the crane in other countries on the European market.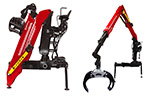 During the autumn, the TZ12 will be working on trucks with customers out in the real world. Final evaluation, adjustments and calibration will then follow. The sales launch is planned for 2016. Cranab's long-term plan is to build up a range of so-called L and Z cranes for forestry and recycling trucks. Production will take place at Cranab's factories in Vindeln.
"
Crane comeback
In fact, truck cranes formed part of Cranab's product range earlier in its 50+ year history, but the decision was taken to focus on off-road forestry cranes at the end of the 1990s.
"
It's feels great to be making a comeback
," says Marketing Manager Micael Olsson. "
Safety requirements and technical developments have changed forestry transportation and recycling cranes, but because we also have a long tradition and leading edge crane-building expertise along with great collaboration with our new part owner, Fassi – themselves experts in loader cranes – we are in an excellent position to quickly establish ourselves anew in our old business.
"