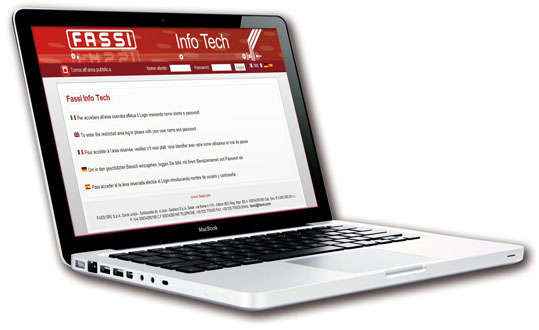 Fassitech.com, innovation just a click away


The new version of the website has been enriched with information and services reserved mainly for commercial operators and technicians. Brochures of Fassi products and those of competitors, along with images, technical sheets, a comparison program, FIP and assistance are just some of the information contained in the site.
A new website created and designed to combine several tools into a single interface. A unique and complete virtual archive where you can find and download every piece of information useful for all professionals, from sales and service assistants to technicians. The fassitech.com website has changed its look in order to provide additional services and surplus value to users. The new version of the site is divided into four main sections, some of which were already found in the previous version and others that have been added for the first time:
Fassi Cat
, the commercial area, the technical area and the applications area.
While the first area is accessible to everyone, the others can only be viewed with a different login and password, depending on the authorizations issued by the relevant offices. For the commercial and technical areas, the user id's and passwords used up to today on the old version of Fassitech.com will continue to be valid. For the applications area and to use the Fassi Installation Program - FIP, users will need to request new access codes from the technical assistance office. As in the past, the site can be viewed in five different languages: Italian, English, Spanish, German and French. The main feature of the new version of the website, especially in the reserved area, is the main menu, which is still visible since it is positioned in the upper part of the interface. This will allow you to find in a quicker and more immediate way the tools Fassitech.com is equipped with.
The first area, accessible to all users, is Fassi Cat, already included in the previous version. From here it is possible to view the spare parts catalogue, the functions of which have remained virtually unchanged but whose graphics have been adapted to the new version of fassitech.com. Once you've entered this section you can select the different components (crane models, cranes not included in the range, hydraulic extensions, supplementary crossbeams, winches and various options) and the respective machines.