Fassi Gru S.p.A. will be at the 30th Edition of BAUMA to reaffirm its technological leadership
Fassi Gru, world leader in the lifting sector, will be on hand at BAUMA 2013, the most important international tradeshow dedicated to the building sector, to be held in Munich from April 15th until the 21st. Now in its 30th edition, BAUMA has always been a privileged venue for the construction world, a chance to present the most innovative solutions to sector professionals from all over the world.
The Fassi Gru stand will be located in Outdoor Area North, F8 stand N827/3, and will cover a total surface of 540 square metres
Important new products will be on display at the stand. For example, the Fassi F120B and F125A cranes, which follow the F110B model launched at the SIAE 2012, featuring a system with single or double linkage (respectively identified by the acronyms F120B.1/F120B.2 and F125A.1/F125A.2) to further improve performances and efficiency. As for the F125A, the exclusive device for automatic dynamic control is also fitted on a light range crane.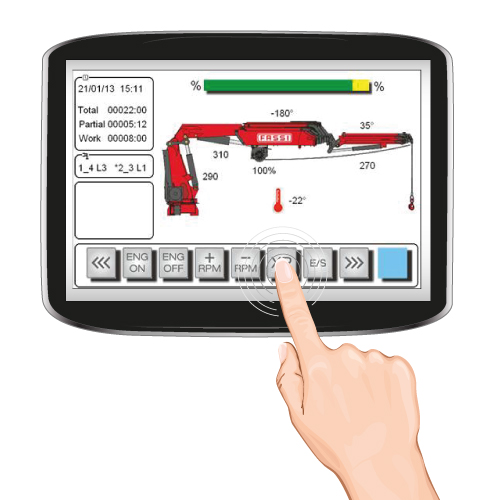 In particular, two new models are on display as absolute previews: the F485RA xhe-dynamic and the F800RA xhe-dynamic, which offer exceptional lifting capacity in their specific segment. Specifically, the F800RA xhe-dynamic model is equipped for the first time with the new exclusive electronic control system of load conditions called Fassi FX900, and with the new user panel on the crane that collects and displays all information pertaining to the operating conditions of the crane thanks to a latest-generation colour "touch screen" graph display.
The F1950RAL+L816L crane, which offers the largest reach ever developed by Fassi.
The S Range will also be on display with the new F195AS model, with enhanced performances and, most importantly, with the single linkage system to increase the efficiency of this crane, which belongs to a range specifically designed for the German market.
Moreover, visitors will be able to watch the Fassi Smartapp at work. This is a veritable integrated real-time data collection and reading system, capable of performing remote diagnostics on crane operation. A "must have" system if you wish to make the most of the features offered by your crane, and to improve crane maintenance times, thanks to utilization statistics.
Fassi will also be displaying the new compact remote controls, specifically designed for small range cranes. This new device will be presented, fully functional and testable, in combination with a Micro crane.